Home

/

WORKSHARP GUIDED FIELD SHARPENER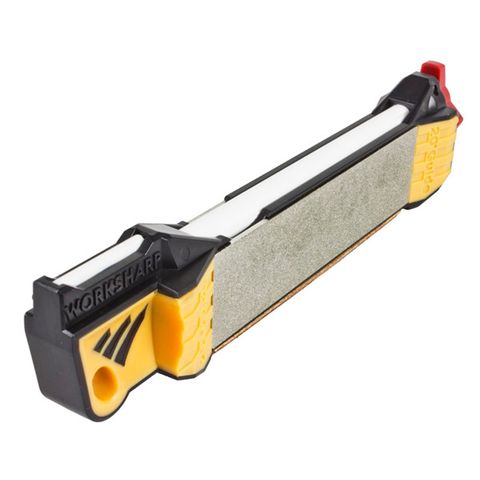 WORKSHARP GUIDED FIELD SHARPENER
The Work Sharp Guided Field Sharpener will sharpen your pocket knives, hunting knives, fillet knives, serrated knives and even bladed tools to a keen edge with speed and precision. It includes 2 Diamond Plates, 2 Ceramic Rods, Leather Strop and Sharpening Guides to provide a fast, easy and consistent sharpening solution for knives and camp.
The 20° and 25° sharpening guides create consistent blade edge angles with speed, ease and repeatability.
.
Strong rare earth magnets secure the easily interchangeable diamond plates and also provide coverage for the Broadhead Wrench and small storage compartment. It's compact design and Lanyard Hole make it easy to pack and carry your next outdoor adventure so you can sharpen anytime, anywhere with speed and ease. Also sharpens fish hooks, broadheads and many other common camp tools.
.
Sharpens:

Standard Knives
Serrated Knives
Scissors
Broad Heads
Fish Hooks
Garden Tools
Axes & Machetes
And So Much More!

Features and uses:

Built in angle guides
Sharpen on diamond
Hone on ceramic
Strop on leather
Hone serrated edges
Sharpen fish hooks
Broad head wrench
Sharpen camp tools
Description
Code
Image
Product Name
Specifications
Fav / Compare
Stock Level
RRP

WSGFS221

WORKSHARP GUIDED FIELD SHARPENER

Stock Locations

Melbourne:

In Stock

Perth:

In Stock

Tasmania:

Out of Stock

WSGFS221-6

WORKSHARP GUIDED FIELD SHARPENER - PACK OF 6 IN CARDBOARD MERCHANDISER

Stock Locations

Melbourne:

In Stock

Perth:

In Stock

Tasmania:

Out of Stock
Customer Reviews
Customer Reviews and Ratings
No Reviews
Be the first to review this product!