Home

/

ITM BM16 PORTABLE BEVELLER, 240V 2.2KW MOTOR, MAX BEVEL WIDTH 16MM (WITHOUT MILLING HEAD OR INSERTS)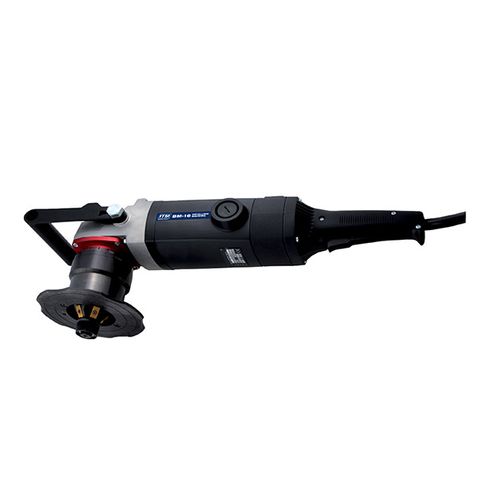 ITM BM16 PORTABLE BEVELLER, 240V 2.2KW MOTOR, MAX BEVEL WIDTH 16MM (WITHOUT MILLING HEAD OR INSERTS)
Stock Locations
Melbourne:

Out of Stock

Perth:

Out of Stock

Tasmania:

Out of Stock
Features
Mill edges of plates and pipes made of steel, aluminium alloys, brass, or plastic. Continuous bevel width adjustment. Overload protection. Electronic speed control Each standard milling head uses 5 indexable cutting inserts. Bevelling radius milling head enables bevelling edges with radius of 2, 3, 4 or 5mm with use of 4-sided indexable R2, R3, R4 or R5 cutting inserts. Highly efficient for edge weld preparation and rounding off steel construction before painting or coating.
Specifications
Power Ssupply: 220-240 V / 50-60 Hz
Motor: 2200W
Spindle Speed (Without Load): 1800–5850 rpm
Minimum Material Thickness: 1.5mm
Minimal Internal Bevelling: 40mm
Maximum Bevel Width: 16mm
Bevel Angle (Depending On Milling Head): 20°, 22.5°, 30°, 37.5°, 45°, 50°, 55°, 60°, 65°
Minimal Diameter of Countersinking: ca 40mm
Rounding Edges: R2, R3, R4, R5
Dimensions: 585mm(L) × 156mm(W) × 238mm(H)
Weight (without milling head): 10kg
Standard Set Includes:
BM-16 beveling machine without milling head or cutting inserts

Metal box

32mm flat wrench

Allen wrench hex s=5

Allen wrench hex s=14

Operator's Manual
Optional Accessories
WAP-BM16/1040 - Milling head for rounding
WAP-BM16/1045 - Cutting insert R2 (4pcs required)
WAP-BM16/1050 - Cutting insert R3 (4pcs required)
WAP-BM16/1055 - Cutting insert R4 (4pcs required)
WAP-BM16/1060 - Cutting insert R5 (4pcs required)
WAP-BM16/1115 - Cutting inserts for 45° bevelling to suit radius milling head only
WAP-BM16/1035 - Milling head 22.5°
WAP-BM16/1010 - Milling head 30°
WAP-BM16/1030 - Milling head 37.5°
WAP-BM16/1015 - Milling head 45°
WAP-BM16/1017 - Milling head 50°
WAP-BM16/1025 - Milling head 55°
WAP-BM16/1020 - Milling head 60°
WAP-BM16/1022 - Milling head 65°
WAP-BM16/1070 - Cutting insert for steel to suit above angle (not radius) milling heads only (5pcs required)
WAP-BM16/1065 - Cutting insert for aluminum to suit above angle (not radius) milling heads only (5pcs required)
WAP-BM16/1130 - Pipe attachment
WAP-BM16/1135 - Work table
WAP-BM16/1140 - Anti scratch guide sticker
Optional Spares & Consumables
WAP-BM16/1100 - Insert screw
WAP-BM16/1085 - Radius insert positioner
WAP-BM16/1075 - Guiding roller
WAP-BM16/1105 - Carbon brush
More Information
Description
Customer Reviews
Customer Reviews and Ratings
No Reviews
Be the first to review this product!