Home

/

ITM BM7 PORTABLE BEVELLER, 240V 1100W MOTOR, MAX BEVEL WIDTH 7MM
Bulky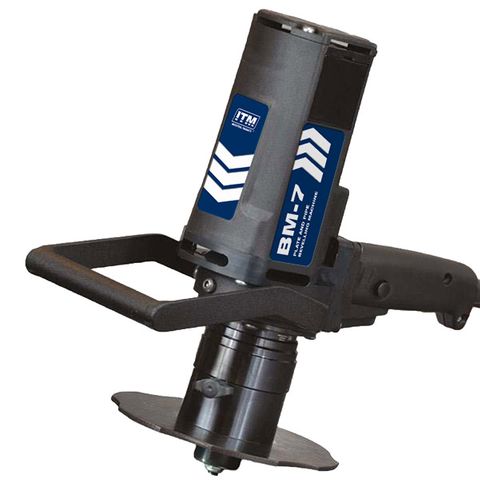 ITM BM7 PORTABLE BEVELLER, 240V 1100W MOTOR, MAX BEVEL WIDTH 7MM
Stock Locations
Melbourne:

In Stock

Perth:

Out of Stock

Tasmania:

Out of Stock
This item is considered bulky. Please Click Here to view more info on bulky goods.
Features
Small, lightweight, quick, and simple to use beveller that creates a perfect radius (R2, R3, R4 or R5) in just one pass, saving time and money over conventional grinding methods. Ideal for milling plates, pipes and contour profiles. Perfect solution for radius edge applying to steel sections before painting which has crucial implications on lifetime of material cover to prevent rust build up on sharp edges.
---
Functions:
Top bevelling
Arched edge bevelling
Pipe OD bevelling
Lightweight and compact design
Ideal for radius edge bevelling
Small overall dimensions
Excellent for limited access
Continuous bevel width adjustments
One single 45 degrees milling head for both radius and V bevels
Specifications
Power supply: 1~220-240 V, 50-60 Hz
Motor: 1100 W
Spindle speed (without load): 6500 rpm
Maximum bevel width: 7 mm (0.28")
Bevel angle (ß, depending on milling head): 45° ;
30° (option)
Minimal diameter of countersinking: ca 35 mm (1.38")
Rounding edges: R2, R3, R4, R5
Min plate thickness: 1.5 mm
Pipe ID beveling: Min. ID 40mm
Dimensions: 327 mm (12.9") L x 142 mm (5.6") W x 319 (12.5") H
Weight (without milling head): 5.8 kg (13 lbs)
Standard set includes:
BM-7 beveller including milling head 45° without inserts

Plastic box
Special wrench
Torx T15 screwdriver
Screw grease (5 g)
Operator's Manual
Accessories:
WAP-BM7/1010 Milling head 45° for cutting and radius bevels
WAP-BM7/1015 Milling head 30° for cutting
WAP-BM16/1115 Cutting insert for steel (4pcs required)
WAP-BM16/1120 Cutting insert for aluminum (4pcs required)
WAP-BM16/1045 Cutting insert R2 (4pcs required)
WAP-BM16/1050 Cutting insert R3 (4pcs required)
WAP-BM16/1055 Cutting insert R4 (4pcs required)
WAP-BM16/1060 Cutting insert R5 (4pcs required)
More Information
Description
Customer Reviews
Customer Reviews and Ratings
No Reviews
Be the first to review this product!