Home

/

ITM ABM-50 AUTO FEED DOUBLE SIDED BEVELER, 415V 4KW MOTOR, 15-60° BEVEL ANGLE, MAX BEVEL WIDTH 50MM, 8 - 80MM PLATE THICKNESS
Bulky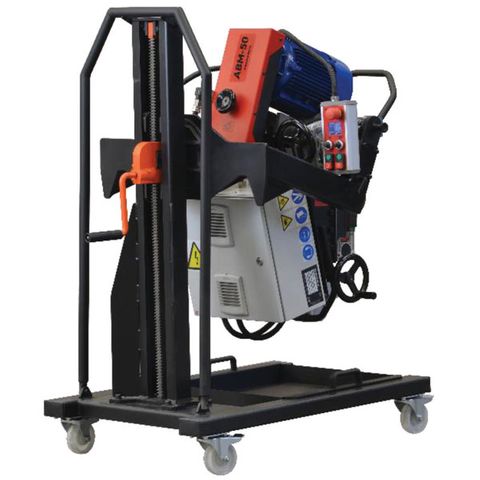 ITM ABM-50 AUTO FEED DOUBLE SIDED BEVELER, 415V 4KW MOTOR, 15-60° BEVEL ANGLE, MAX BEVEL WIDTH 50MM, 8 - 80MM PLATE THICKNESS
Stock Locations
Melbourne:

Out of Stock

Perth:

Out of Stock

Tasmania:

Out of Stock
POA
This item is considered bulky. Please Click Here to view more info on bulky goods.
Features
The ABM 50 produces accurate high-quality double-sided bevels without thermal distortion or creation of heat affected zone on plate thickness range 8-80 mm (15/16" – 3 1/8") using a purpose designed milling head with eight 4-sided indexable cutting inserts. Continuously adjustable bevel angle between 15 and 60 degrees (for both top and bottom beveling) requires no tooling to change.
Key features
Real-time measurement and on-screen display of exact bevel geometry and cutting parameters
Bevel width up to 50 mm (2") at 45 degrees
180° Inversion allows for creation of a double-sided bevel – no need to rotate or flip heavy material reduces material handling costs and improves shop safety
Variable spindle speed for work on a variety of steel grades and thicknesses
Versatile and transportable on its own trolley
Equipped with milling head including 8 replaceable inserts
Feedback-controlled overload system
Create a double-sided bevel eliminating the need to turn a plate over
Remote Control Panel
LCD display that shows exact bevel geometry as well as enables precise adjustment of spindle speed and feed speed to optimize them depending on material grade incl. stainless steel, aluminum etc. The operator can easily adjust and monitor the following parameters:
Bevel angle
Bevel width
Bevel height
Depth of cut
Spindle speed
Feed rate
Spindle load
Specifications
Power: 6.5 kW
Spindle speed ( no load ): 300–800 rpm
Feed speed: 0–1.2 m/min (47"/min)
Bevel angle: 15–60°
Maximum bevel width: 50mm (2")
Maximum depth of cut allowed per single pass: 6mm (1/4")
Plate thickness: 8–80mm (5/16–3-1/8")
Required ambient temperature: 0–40 °C (34–104°F)
Weight: 320 kg (700 lbs)
Customer Reviews
Customer Reviews and Ratings
No Reviews
Be the first to review this product!