Home

/

MAGNETIC BASE DRILLING MACHINES
MAGNETIC BASE DRILLING MACHINES

The ITM Holemaker range of magnetic base drilling machines is Australia's most comprehensive and widely used brand of Magnetic Drill on the market. With our wide range of machine styles, sizes and designs, there is an ITM Holemaker machine to suit every application.
PRODUCT INFORMATION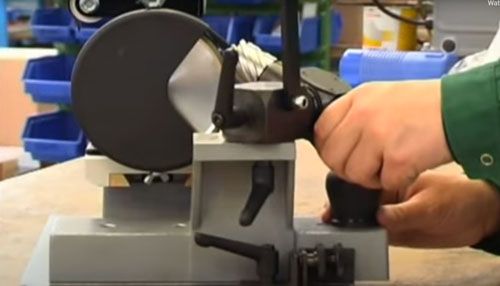 Reliable & Durable European made machines
Value for money that far exceeds any other brand on the market
Readily available for purchase from 100's of retail tool stores, Australia wide
Backup service and parts, Australia wide
Over 20 different models of mag drills stocked in Australia
Over 25 years of product development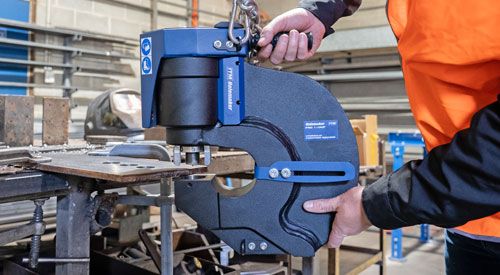 Mag base drills are a portable power tool featuring an electromagnetic base that can be secured to a piece of steel. This helps to keep the mag drill stable, secure and precise while drilling through the steel. A magnetic base drill can be used in a workshop or on the job site.
Magnetic base drill machines can be electric, pneumatic or hydraulic. Electric magnetic base drills are by far the most popular due to their lightweight, cost effective and compact design. Pneumatic magnetic drills use compressed air to power the drill while hydraulic magnetic drills are useful underwater thanks to a closed loop powered system.
Although a magnetic drill base can be bulkier than a conventional drill, it is very safe to operate when working with metal due to its stability. Magnetic drills are also available in a range of sizes and with a wide degree of features such as smart control, coolant and swivel base systems just to name a few.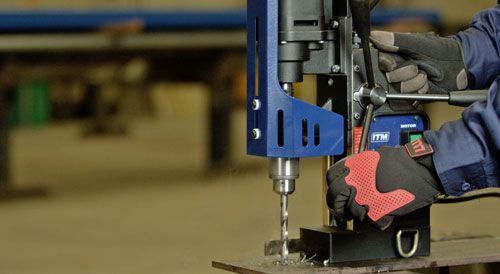 When choosing the ideal mag drill for your application, you must consider the diameter and depth of the hole you will be drilling, the drilling speed requirements you need, the environment you will be working in as well as the type of material you will be drilling.
If you are looking for a dependable tool that will provide a precise and smooth drilling result when working with metal, a magnetic base drill is your best choice.
Choose Holemaker's leading range of magnetic base drilling systems and accessories. With quality magnetic base drills that offer superior performance every time.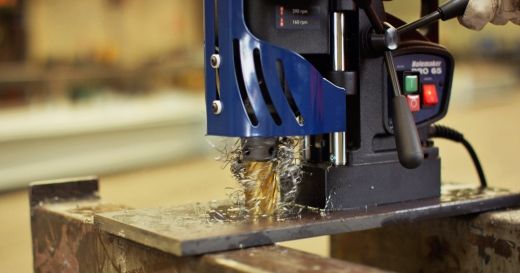 As with any other tools or machinery, when operating your drill, you must remember to wear a face shield and gloves to protect yourself while on the job.
Before securing your drill to the metal service, check your surface is free of chips and debris.
After a hole has been drilled, turn off the motor, eject the slug and clean the chips and debris away from the work area and under the magnet. Also, ensure the cutter is not dull because it could contribute to pushing the magnet off the work surface.
It is also necessary to use a safety strap or chain while drilling or cutting, especially if the mag drill is positioned in a horizontal or upside down position. This will protect both yourself and the magnetic base drill itself.
A magnetic drill base should also not be used while others are welding the material at the same time, as it can cause the circuit board and magnet to short out.
Please consider the product manual for further information on how to safely use a particular mag drill.