Home

/

WORKSHARP PRECISION ADJUST PRO KNIFE SHARPENER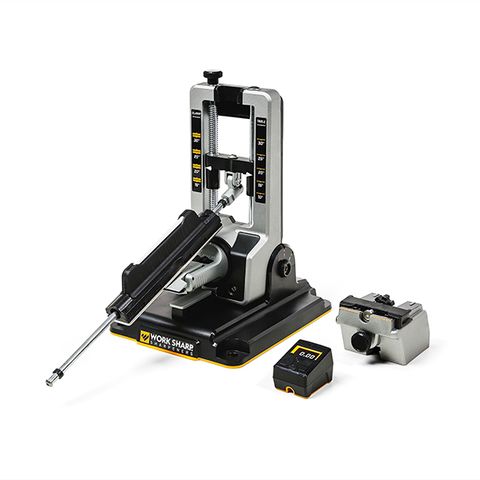 WORKSHARP PRECISION ADJUST PRO KNIFE SHARPENER
Stock Locations
Melbourne:

In Stock

Perth:

In Stock

Tasmania:

Out of Stock
Features
The Professional Precision Adjust™ is a complete angle adjustable knife sharpening system using metal construction, a digital angle indicator, and seven abrasive grits to bring rigidity, repeatability, and precision to your knife sharpening needs. The sharpening angle easily adjusts from 15° to 30° using a digital angle indicator to accurately and repeatably set your sharpening angle. The 1" x 6" abrasives include a full assortment: 220, 320, 400, 600, and 800 grit diamond, a ceramic honing plate, and a leather strop that polishes your edge to mirror sharp. The abrasives are easily interchanged using a common handle, which includes a ceramic rod for honing serrations. The innovative V-Block Clamp™ quickly, securely, & repeatably secures your knife. The weighted base provides a safe and stable platform that allows rotating the knife without removing the knife or clamp. The included small knife table attachment allows you to sharpen small pen knives down to a 15° angle. 3-Year Warranty.
Professional-level sharpener with metal construction
Includes seven (7) abrasive grits: 220, 320, 400, 600, and 800 diamond, Fine Ceramic, Leather Strop
Adjustable Angle from 15-30 degrees with included digital angle indicator.
Small knife table attachment allows sharpening small 'pen knives' to angles as low as 15°
Abrasives are user replaceable
Sharpens Kitchen Knives, Pocket Knives, Hunting Knives, and Outdoor Knives.
3 Year Warranty
Specifications
PRODUCT TYPE: Sharpener
SHARPENING ANGLES: 15° to 30° Adjustable
INCLUDED ABRASIVES: Ceramic, Coarse Diamond, Fine Diamond, Leather Strop, Medium Diamond
ABRASIVE SIZE: 1"x6"
INCLUDED:
Metal Sharpening Frame with continuous angle adjustment from 15° to 30°
Digital Angle Indicator (inclinometer) to set exact sharpening angle.
Base for added stability when sharpening on a benchtop.
Seven 1" x 6" sharpening abrasives 220, 320, 400, 600, & 800 grit diamond.
Ceramic Rod for sharpening serrations.
Fine ceramic & a leather strop.
Metal V-Block Clamp™ for secure and repeatable knife placement when sharpening.
Clamp Stabilizing platform (Clamp Stabilizer) for increased stability when sharpening larger knives.
Small knife table attachment to sharpen small pen knives down to a 15° angle.
User Guide
Description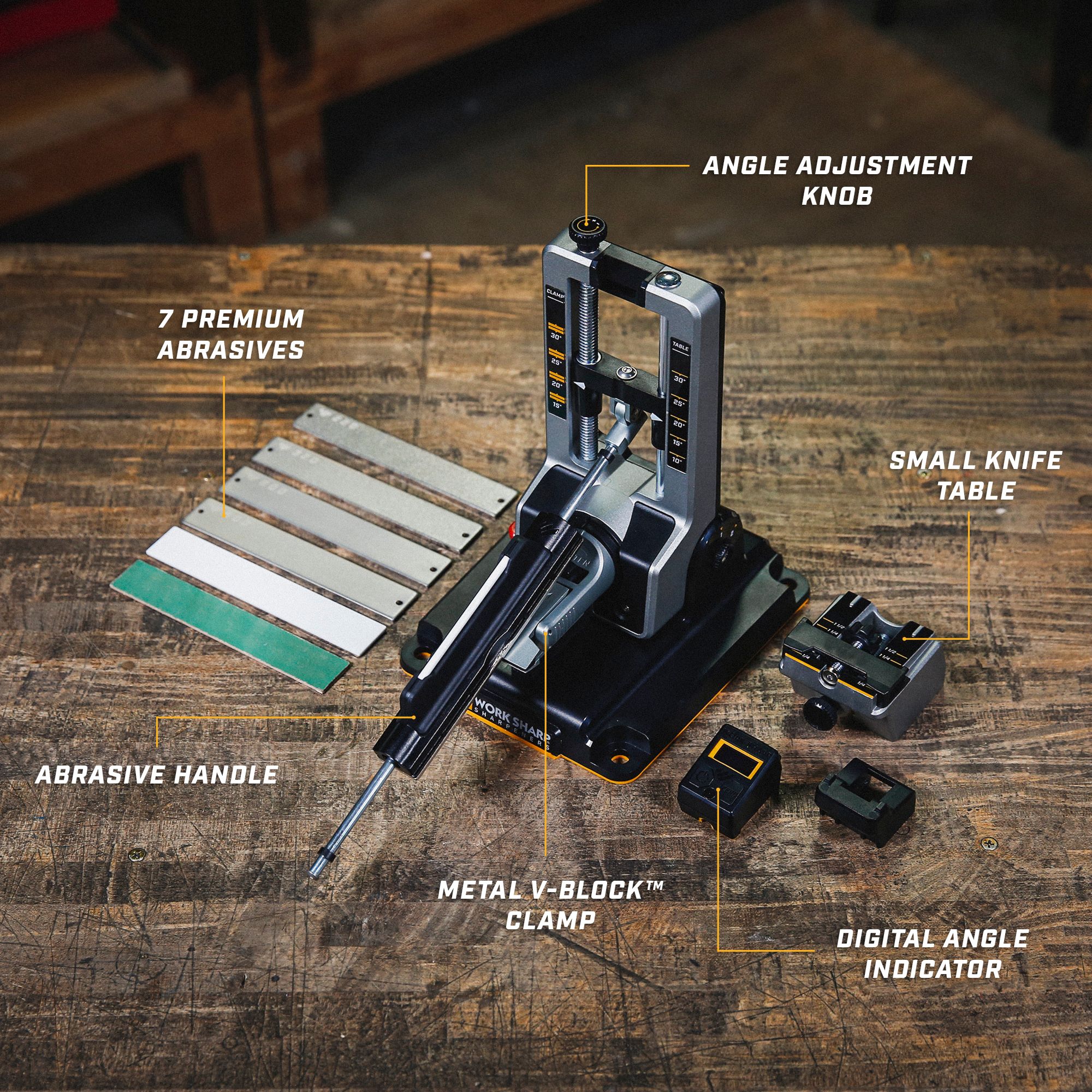 Customer Reviews
Customer Reviews and Ratings
No Reviews
Be the first to review this product!